2009-01-20 | Downloads
Essential and really useful mortgage calculator to know your monthly mortgage payment according to your bank's conditions.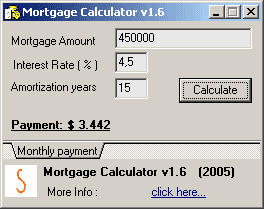 Mortgage Calculator v1.6
This mortgage calculator is used for calculating a mortgage (any mortgage loan) as well as any type of non-mortgage loans (car, personal loan, etc.).
This calculator is completely free and you can distribute it freely.
Installation is not required
You only have to download the calculator from here and run it:
>> Download Mortgage Calculator
Use
Run the mortgage calculator.
Introduce the amount you need to ask your bank for in euros or in any currency used at your country
Insert the mortgage loan interest rate (it is usually Euribor + differential)
and the mortgage amortization schedule in years
Finally click on Calculate.
Help
In general (in Spain), the interest is calculated as Euribor + 0.5 (aproximately).
For example, the Euribor in February 2005 was of 2.310%, so the current interest will be 2.310+0.5=2.810 %
The mortgage amortization schedule is often of 25 years, but there are banks that allow 30 or even 35 years (Suggestion: consult many offers and compare).